Breakdowns happen. A home warranty plan can help.
Get your first two months of coverage free1

Thousands of reliable, pre-screened service providers

$500 homeowners insurance deductible reimbursement3

Industry-leading 180-day workmanship guarantee

No inspections needed

Unknown pre-existing conditions covered

45 years of experience

24/7 customer service

Cancel anytime†
Breakdowns happen. A home warranty plan can help.
Get your first two months of coverage free1

Thousands of reliable, pre-screened service providers

$500 homeowners insurance deductible reimbursement3

Industry-leading 180-day workmanship guarantee

No inspections needed

Unknown pre-existing conditions covered

45 years of experience

24/7 customer service

Cancel anytime†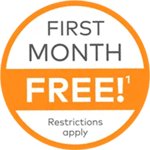 Why do I need a Cinch home warranty?
Without a Cinch home warranty, you could be paying too much for repairs and replacements.4
Real stories, real customers
"The service of Cinch has been great. My claims process for the upstairs heating unit went really well. The techs were great. They fixed it the same day I made an appointment."
"Every time I submitted a claim, I had a good experience. I usually receive a response within 24 to 48 hours. Cinch has chosen to use reliable companies 'cause I've never had a problem with any of the companies that have serviced me."
"I like the service with Cinch. Whenever I call, I'm able to get a tech out to my house within a couple of days. I haven't spent a whole lot of money out of pocket. The technicians that I've had for my issues have all been very knowledgeable. I love Cinch. It's money well spent. Whatever it costs a year, it's worth it for me."
How to find the best home warranty plan for you
When it comes to finding the right home warranty for you and your home, there's no one-size-fits-all solution. Different home ownership situations, such as whether the home is newly purchased or you live in an older home, will all impact the type of plan you need. Therefore, finding the best home warranty plan for you requires you to carefully consider what you want to see in your plan and what it needs to protect.
In this guide, we'll take a closer look at what home warranty coverage options are available and how to make the most informed decision when it comes to home repairs and home protection.
How home warranty plans work
In short, a home warranty helps homeowners be proactive when it comes to replacement costs or repairs if a major appliance or major system breaks down. With many home warranty plans, homeowners can select from a few different coverage options. You'll often see three plan options available: coverage for major appliances, coverage for built-in systems and a comprehensive plan that covers both.
You can typically pay for your warranty on a monthly or annual basis. When it comes to needing an actual repair or replacement, your plan will include a deductible due at the time of the service request.
The availability of different plan options allows customers to focus on the coverage they need. For example, someone who has major appliances still covered under a manufacturer's warranty may not need appliance coverage right away.
What to look for in a home warranty plan
When reviewing the different home warranty plans available, there are certain features you want to see that indicate a quality plan. As you review your plan options, use the following guidelines to make the best decision for your home.
Research the home warranty company
To find the best home warranty plan for you, you'll want to research home warranty companies. If you're in the process of buying a home, consider asking your real estate agent for recommendations. If you already own a home, start with a simple online search.
From there, take a look at the company's "About Us" page. You'll typically see how many years the company has been in business, what areas they serve, how many plans they offer, and any customer reviews or company awards.
Cinch Home Services offers a variety of leading home warranty plans in America. With a dedication to providing homeowners with the coverage they require, customers have the comfort and convenience of knowing their home is protected and a plan to match their unique needs.
Clear coverage options
The best home warranty companies should offer clear coverage options. The different plans should be easy to follow regarding covered items and exclusions.
It should also be simple to compare coverage options. For instance, Cinch offers three levels of coverage, which you can easily compare on our site. Comparing plans offered by one company can help clarify how the different plans are structured, making it easier to select the right coverage option.
Below is a quick look at some of the items covered with an Appliances Plan by Cinch:
Clothes Dryers

Clothes Washers

Cooktops

Dishwashers

Food Centers (Built-in)

Freestanding Ice Makers

Microwaves (Built-in)

Ranges

Range Exhaust Hoods

Refrigerators

Trash Compactors (Built-in)

Wall Ovens
And these are the items covered with Cinch's Built-in Systems Plan:
Air Conditioning Including Ductwork

Attic Fans

Ceiling Fans

Central Vacuums

Doorbells

Electrical System

Garage Door Openers

Garbage Disposals

Heating System Including Ductwork

Instant Hot/Cold Water Dispenser

Plumbing System

Smoke Detectors

Sump Pump

Toilets

Water Heater

Whirlpool/Jetted Tub (Built-in)
It should also be clear what isn't covered. For instance, you may need to rely on a separate home insurance policy or homeowners insurance for larger issues, such as roof leaks or property damage.
Honest pricing
You also want to look for a home warranty that offers clear, honest and upfront pricing. Everything from service call fees to deductibles should be straightforward in your home warranty contract.
You'll want to review your policy carefully before purchasing and make sure you fully understand the pricing. Some questions you should be able to answer easily include:
How much will this plan cost you monthly or annually?

How much will your deductible be?

Are there options for having a higher deductible versus a lower monthly payment?
Unknown pre-existing conditions coverage
A "pre-existing condition" refers to any major appliance or system that has already failed or experienced some sort of damage before coverage officially starts. You'll typically find this sort of damage on a home inspection report.
At Cinch, all of our plans offer the protection of unknown pre-existing conditions coverage, which means a failure couldn't be detected by a mechanical or visual inspection prior to the plan going into effect.
Without coverage for unknown pre-existing conditions, a company may refuse to cover a claim for a home with a problem that a homeowner didn't know existed that started before they got their plan.
A workmanship guarantee
If you're not a pro when it comes to home repairs, you'll also want to look for a plan that has a workmanship guarantee. For example, Cinch offers an industry-leading 180-day workmanship guarantee. This means that if a problem persists even after being looked at and repaired by a Cinch service provider, we'll continue to work with you in getting the problem fixed at no additional cost.
Optional coverage and add-ons
Some home warranty providers offer additional coverage options even beyond their most comprehensive coverage plans. Some optional coverage options include:
Swimming pools

Septic system

Well pump
Add-on coverage can help make what your plan covers more personalized based on your unique needs. The priorities of someone in California, for instance, might differ from those of someone in Florida or New York, which means they might want to make sure their home warranty has the right coverage. Whether you're looking at a more basic plan or a combo plan, be sure to review which optional coverage and add-ons are available to ensure your home warranty covers what you need.
Discounts on appliances
A home warranty can provide you with peace of mind by protecting a range of important appliances and critical house systems. What if your plan only covers your home's built-in systems, but you ultimately end up needing a new refrigerator?
Some home warranty companies make it easier for the homeowner by offering discounts on the purchase of new appliances as an upgrade or to replace non-covered items. Cinch, for instance, offers Appliance Buyline that provides access to discounts on a variety of brand-name appliances.
Discover the Cinch home warranty plan that's perfect for you
Carefully evaluating your choices based on the coverage you need will help you pick the best overall home warranty plan for you. A close look at the service agreement can help you determine the home warranty plan that best suits your needs.
Cinch is here to provide customers with the home services warranty they seek to protect their home. No one wants to worry about their heating system going out in the middle of winter, and we're here to help as a top home warranty option.
A home warranty (also known as a home protection plan or home service plan) is a contract that provides repair and replacement coverage for your home's major appliances or systems. A home warranty service contract provides insurance against malfunctions or breakdowns due to normal wear and tear.
Many people make the costly mistake of believing that their insurance provider will cover these types of repair costs or replacements. But homeowners insurance pays for losses or damages incurred from unforeseen occurrences. A home warranty actually complements homeowners insurance by providing the most comprehensive coverage to limit out-of-pocket expenses.
Cinch's customizable home warranty plans help protect your major home systems, such as air conditioning, heating and plumbing systems. You may also protect your major appliances, such as your stove, oven, and water heater and more.
Why do you need a home warranty?
Homeowners often buy home warranties because they are a cost-effective way to ensure essential appliances and built-in systems stay up and running. This kind of peace of mind is important when the costs to replace a malfunctioning item can run into the hundreds or thousands of dollars. If your budget is tight and you don't have DIY skills for repairs and installation, signing a home warranty contract makes a lot of sense.
In addition, when you buy a new appliance, it usually comes with a manufacturer's warranty that's valid for a set length of time. The standard coverage varies depending on the appliance and manufacturer but could be anywhere from six months to a year. After the warranty expires, your appliance is left unprotected, and it's your responsibility to pay for repairs or replacements.
What are the benefits of a home warranty?
Whether you are purchasing your first home or are a long-time homeowner, it makes financial sense to consider a home warranty plan in addition to your insurance policy.
Here are some key reasons:
Home warranty plans cover situations that insurance doesn't.

Investing a few hundred dollars in a warranty can save you thousands in up-front repair costs.

A warranty company sends a vetted, licensed service provider to your home as soon as you file a claim, saving you the time and stress of finding one yourself.

A home warranty plan offers peace of mind that your home is covered no matter what kind of breakdown occurs.

For home sellers, offering a prepaid one-year home warranty can serve as a selling point for potential buyers.
What do home warranties cover?
Different home warranties may cover different sets of home appliances or built-in systems. Below are are just a few of the items that a Cinch plan covers:
Built-in dishwashers

Refrigerators

Built-in microwaves

Wall ovens

Clothes washers and dryers

Plumbing system

HVAC system

Electrical system

Heating system

Water heater
Generally, these plans cover a mechanical breakdown from routine use, sometimes referred to as "normal wear and tear." This means that mechanical parts, such as motors and switches, and parts like knobs and handles are covered.
You can choose from a variety of options when choosing a home warranty plan, but plans that cover more will cost more. Cinch Home Services offers a Complete Home plan that provides warranty coverage for for more than 25 items in the home.
Which is the best home warranty for me?
There are many home warranty companies available. Some things you'll want to consider when deciding on a company include what optional coverage options they offer depending on your needs and how many years of experience they offer.
Most home warranty companies offer different home warranty plans. It's not a one-size-fits-all type of industry because each home and homeowner has unique wants and needs. A home warranty company typically has three types of plans. One for major appliances, one for built-in systems and a complete home option that covers both.
Choose a home warranty provider, like Cinch, that also offers excellent customer service and has a clear contract explaining what it covers. Cinch offers an easy-to-read explanation of the terms of our home warranty. There is no hidden fine print.